Before we made a switch to real food almost three years ago, my husband and I relied on convenience packaged foods.  Back then, if we read any label at all it was just to identify fat and calories.  We've learned a lot since then.
I thought it would be helpful to show you dishes or food items we ate in the past and then provide you with a comparable real replacement in a series called "Three Plates Transformed".
Each post will highlight three recipes and/or products.  I am purposely omitting the brand names of the products I'm featuring as bad.  I will, however, highlight products I currently use and love.
Oatmeal
When made with real ingredients, oatmeal is a wholesome and satisfying breakfast.  My two boys devour homemade oatmeal 5 days a week. However, apple cinnamon instant oatmeal made by a popular breakfast food company contains 18+ ingredients.  Here are a few ingredients that I can't even pronounce: pyridoxine hydrochloride, thiamin mononitrate, and niacinamide.  Mmm, yummy.
Real oatmeal made from scratch has only 5 ingredients – all of which are natural and wholesome.
Here's the recipe: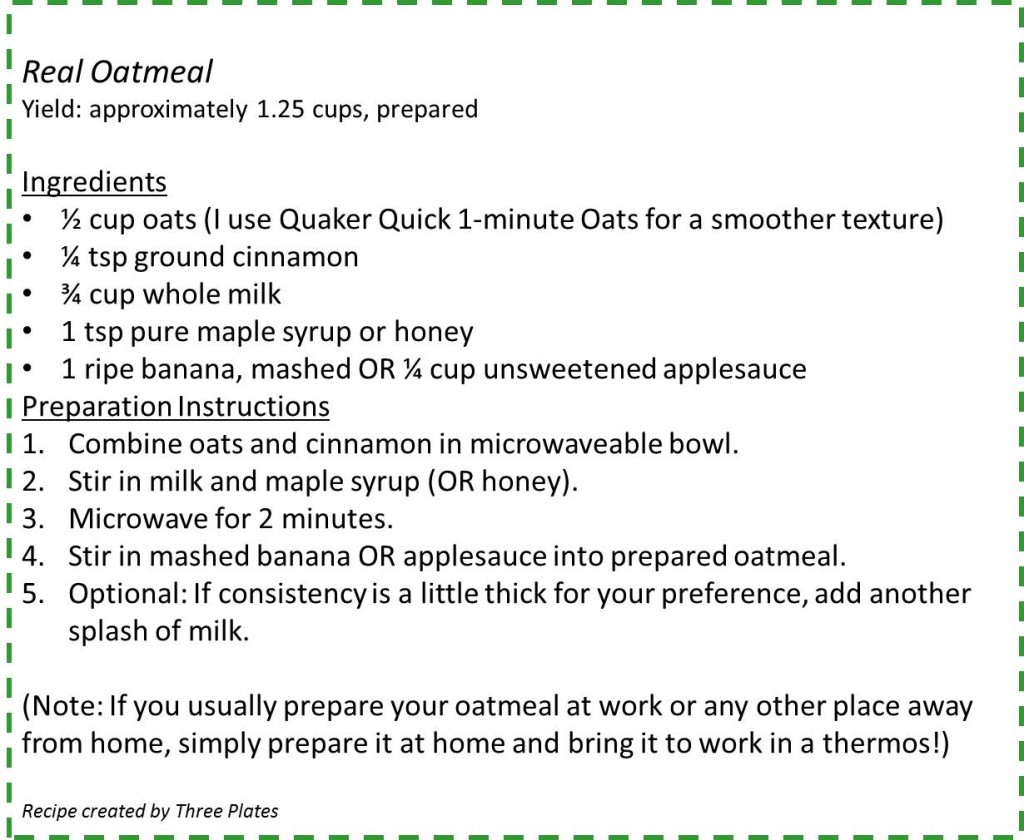 Biscuits
The sound of a metal can of raw biscuit dough popping open is one that brings back memories of our days before real food.  Name a variety of canned biscuits and I guarantee we ate them at some point in our household many years ago.
Buttermilk flaky layer biscuits made by a popular biscuit company contain 25+ ingredients.  Here are a few that scare me: propylene glycol alginate, ferrous sulfate, and sodium acid pyrophosphate.  I don't know about you, but my mouth is watering. (If you don't know me very well yet, I'll let you know that sarcasm is my second language.)
Homemade bread can be intimidating, but this recipe for whole wheat biscuits is incredibly simple.  I'm not going to lie to you and say that these taste exactly like canned, white flour biscuits.  They don't.  In general, whole wheat has a different texture and may take time to get used to.  They do, however, appeal to us for two reasons: they're tasty and quick.
You don't need a mixer or a special biscuit cutter for this recipe.  Just a bowl, spoon, cookie sheet, and drinking glass.  Oh, and an oven.  That helps, too.  This recipe comes from one of my favorite blogs and my original real food inspiration, 100 Days of Real Food.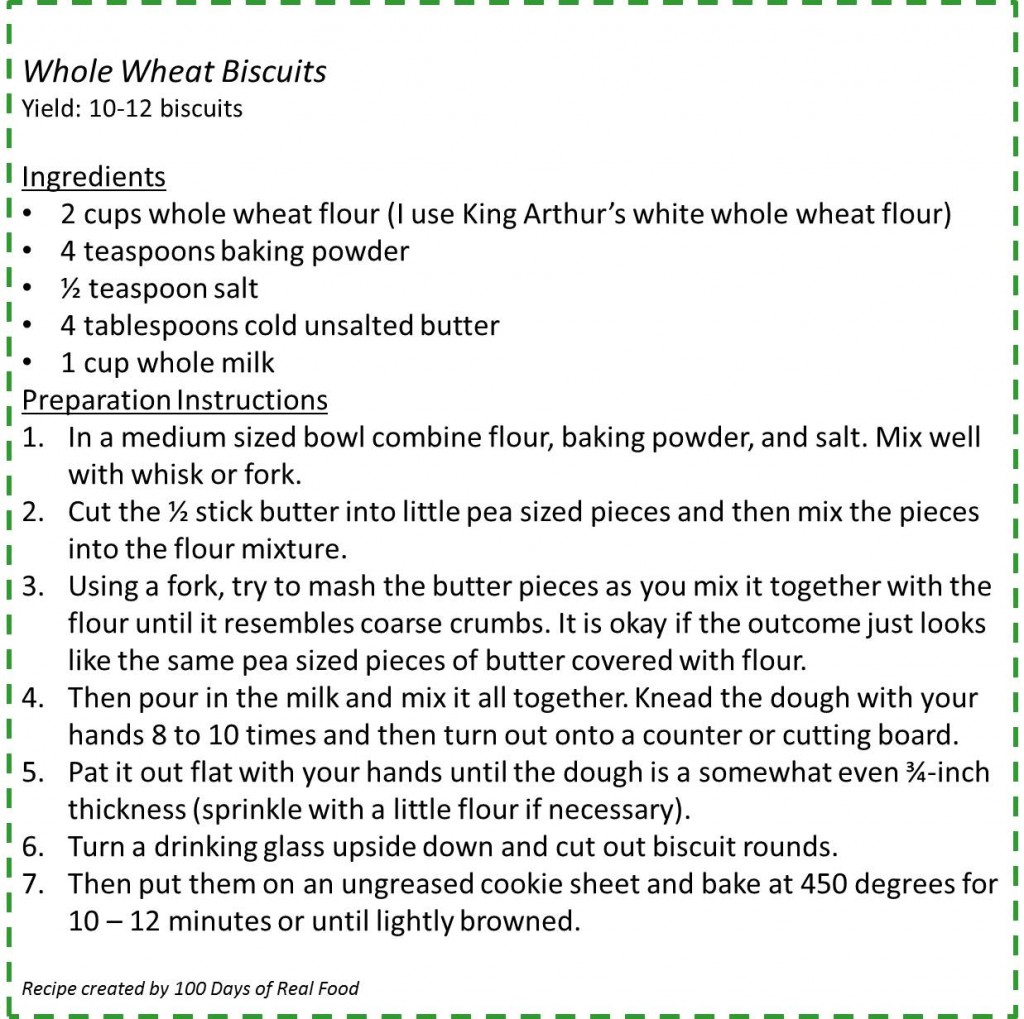 Maple Syrup
You just can't have a Sunday morning pancake breakfast without syrup.  It's un-American.  However, those big plastic bottles of artificial maple syrup contain ingredients that would make you want to renounce your citizenship.  Sodium hexametaphosphate, anyone?
Once you try pure maple syrup, you'll cringe at the taste of the old chemical stuff if you ever try it again.  Take my advice, though, and stick with a medium amber version of pure maple syrup.  The dark amber variety is a little harsh.
Pure maple syrup is a natural sweetener, so add it to oatmeal, plain yogurt, or almost anything that needs a little sweetener boost.  It is still sugar, though, so use it in moderation.
I hope you enjoyed this new series.  Keep an eye out for many more "Three Plates Transformed" posts.
Have a category you'd like to see highlighted?  Let me know in the comments below.