Just the title of this recipe makes my mouth water.  My sweet tooth has been in high gear lately, so I apologize for another sweet recipe.  OK, maybe I don't.
It's kind of rare to find existing dessert recipes that contain a majority of real ingredients.  Usually, I have to try to substitute artificial ingredients for real ones – and that's really tough when it comes to baking.  Cooking is much easier to adapt.
So, when I came across this one my eyes widened with delight and I clicked the "Pin It" button as fast as I could.  Yes, this recipe contains brown sugar and chocolate chips, but the rest of the ingredients are real.  Bonus: the oats, peanut butter, and whole wheat flour are wholesome.
I've made these once before as bar cookies and they were delicious.  I froze half of the baked batch and ate them cold – also delicious!  It goes without saying that my kids dig them, too – in very limited moderation, though, because of the brown sugar.
This time around my square pan was in the dishwasher, so I improvised and decided to use a pie pan to make a cookie pie.  The results were just as good – if not better.  This would make a great dessert for a birthday celebration or a dinner party.  To step it up a notch, you could top it with a thin layer of homemade chocolate pudding/frosting, or serve it a la mode with vanilla ice cream (we use Breyer's natural vanilla).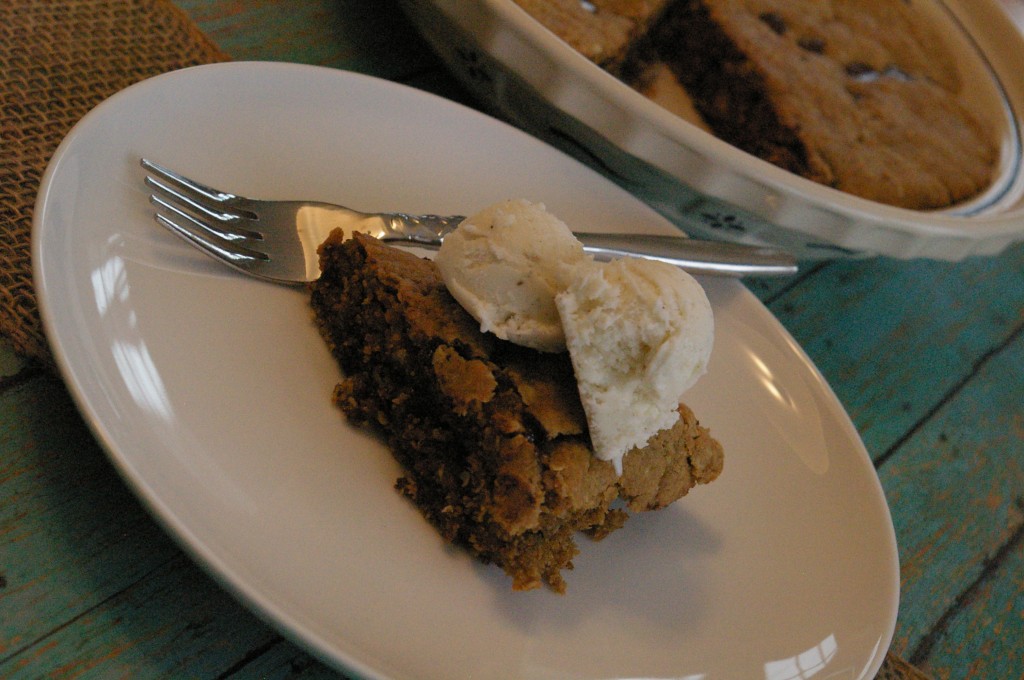 This recipe would also be a great alternative to store-bought cookie cakes.  Just use a pizza pan (either metal or foil/disposable) and decrease the baking time.
Odds are you have all of the ingredients in your pantry and fridge right now which makes me love this recipe even more.
Enjoy!