The triplets recently turned 3, so we hosted a celebration in their honor.  Even though it's a little stressful to host a party at our house with three toddlers under foot…I love every minute of it.  And when I say "host" what I really mean is: clean the house, plan the menu and theme, cook the food, get everyone dressed and presentable, and my least favorite part…the clean-up.  I am a fan of Pinterest, but I'm not one to go absolutely bonkers over a theme.  Just a few touches here and there.
This year's theme was little chefs.  The kids are all interested in cooking and baking with me (and watching Food Network whenever I let them), so it seemed to be a good fit this year.  It's also gender neutral which is a must with the 2 boy/1 girl combo.
Many kids' birthday parties are riddled with processed food, food dyes, and candy.  I'm already dreading the day when they celebrate their classmates' birthdays in school.  I digress.
It doesn't have to be that way, though.
Here's how we threw a fun kids' birthday party without sacrificing our real food beliefs:
The Cake
Let's be honest.  Birthdays = cake.  I know there are many other desserts to enjoy at a birthday party, but for my kids (and me)…it's cake.  They don't get it very often.  When we go to other birthday parties, it's usually just a few bites each.  I'd love to say that I made their cakes myself, but it's just one of those things that I have learned to pass on to the experts.
Here are some cake tips:
Use a bakery that makes their cakes from scratch.  I pretty much played the game of 20 Questions when I first talked to the baker we decided to use.  She assured me that her cakes are made from scratch and admitted that some of the fillings are not.  Yes, it's white flour and white sugar, but it is not a box mix.  You'd be surprised how many bakeries use box mixes as the base for their cakes.  We always have a cake made for each of the kids.  This year the cake flavors we chose were: chocolate cake with a homemade chocolate mousse filling, white cake with a homemade strawberry filling, and white cake with a homemade banana filling.  Of course, I had to sample each flavor to make sure they were OK.  And, yes, they were absolutely delicious.
No dyes.  I'm sure my kids would be wowed to blow out candles on a multi-colored cake, but all of that food dye just is not worth it.  Heavily dyed frosting has become my new pet peeve.  It tastes horrible, is linked to child behavior issues, and stains your teeth for hours after the party is over.  I am always clear with our baker that we don't consume food dyes.  This year, she used white icing and decorated with chocolate frosting.  It was perfect!  There are many other fun ways to decorate a cake without dyed frosting: fruit, nuts, raisins, chocolate chips, or just make fun designs with vanilla and chocolate frosting.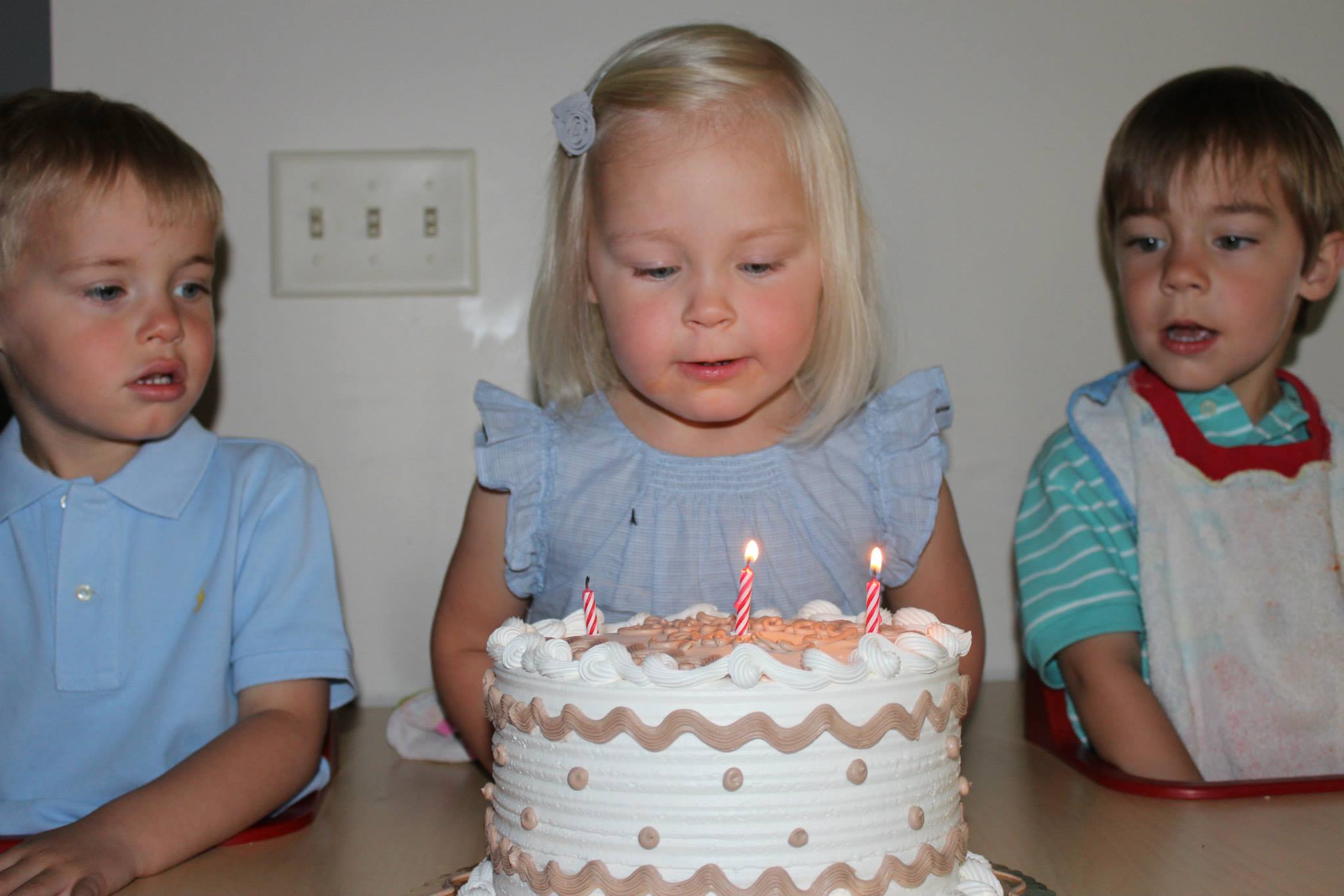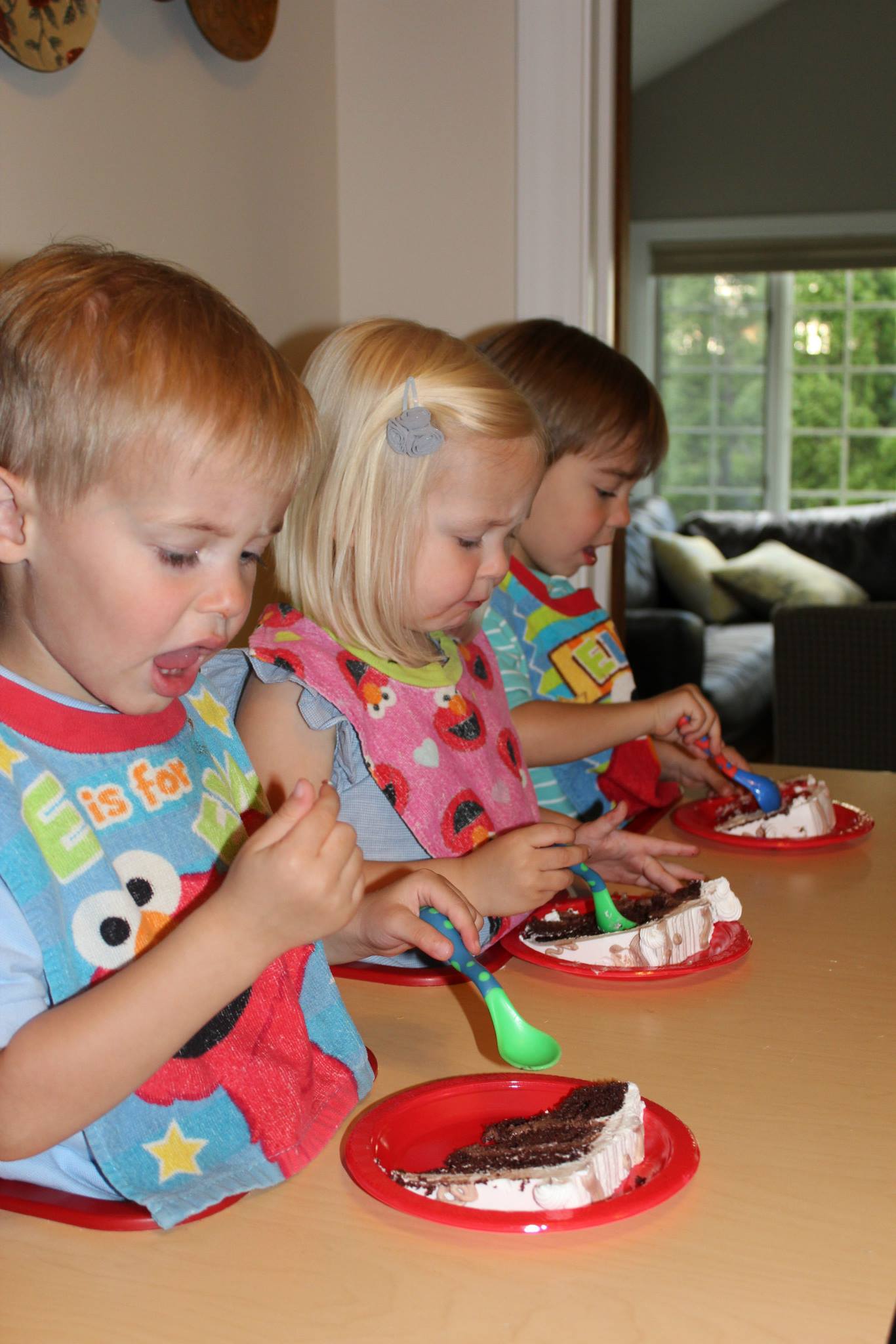 The Favors
Contrary to popular belief, kids enjoy non-candy (is that even a word?) party favors, too.  Because this year's theme was little chefs, we had an apron decorating station for all kids age 10 and under.  I purchased the aprons and fabric markers at Hobby Lobby.  The cost per apron was only $2/per apron (on sale) plus the cost of the markers.  It's something each kid can use well past the party – hopefully while they're helping their parents in the kitchen!
Here are some great ideas for non-candy party favors.  Yes, there are some junk food favors pictured here, but they can be easily adapted…or just ignore those!  Of course, favors are influenced by the overall party theme, but some of these may fit well into various themes.
The Food
Our guest list is usually between 35-40 people each year, so it is manageable to have homemade food at the party.  Sometimes, for us, only 50-75% of the party menu is homemade, but this year it was 99% (not including the cakes).  It took a good amount of planning and pre-party food prep to pull it off, but it wasn't too hard at all.  My only regret is not snapping pics of the food before it was devoured.  Here's what was on the menu:
Italian beef sandwiches (modified from this recipe) with hand-shredded Monterey jack cheese and homemade giardiniera (modified from this recipe).
Whole wheat penne pasta with marinara sauce
Chopped salad inspired by Portillo's.  If you live in the Chicagoland area, you know about Portillo's.  (Modified from this recipe.)
DIY trail mix station with popcorn, raisins, nuts, and chocolate chips
Fruit cups
Water, wine, and beer.  I know that many of the guests drink pop, but that's something our household is strongly against.  Instead, we offered naturally-flavored sparkling water.  I know it's not the same, but it's as close as it gets in our house.
Hosting a gathering at your home is always about making the guests feel welcome, but that doesn't mean you have to sacrifice your real food lifestyle.  There are many ways to make a party enjoyable AND real.  As always, do what you can and be sure to always make time to mingle and enjoy your party guests.  And when a party ends with a kids' bike race in the driveway, you'll know it was a success!